The Calendar feature was introduced to the game with the Peter Pan Update on 24th January 2018. It replaced the Daily Login Rewards feature.
About
An improved Daily Calendar has been added to provide rewards on a daily basis. Logging into the game for multiple days consecutively will now earn you great rewards!
Sign In Each Day
Many rewards can be earned throughout the month. Sign in each day to claim the reward on that day!
Missing a day doesn't affect your overall progress in the month!
Tap Rewards for More Details!
Tapping on a reward within the Calendar will display more information about it.
Complete Streaks for Big Rewards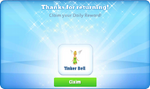 Streaks yield even more rewards and can be completed by signing in on multiple days in a row.
Be sure to come back often to collect the streak's reward!
Missed Days Can Be Recovered!
As long as you sign in within 24 hours from when the date has changed, the previous day's reward can be recovered.
Streaks Can Be Recovered!
While missing a day in a streak affects your progress toward the reward, a streak can be restarted or recovered next time you sign into the game, regardless of how much time has passed since the last visit.
Gallery